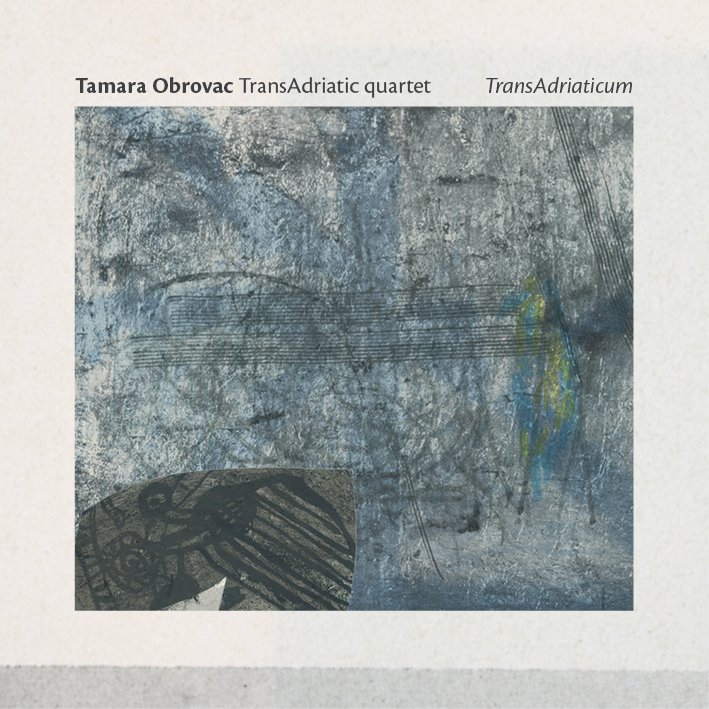 1. Muora / Night hag
2. Galiotova pesan / Galley-slaves song
3. M'hanno ferita / I've been hurt
4. Afro blue Istra
5. Mriž zvizdami / Interstellar
6. Slavuj piva / A nightingale sings
7. Trukinja / Grano turco / Maize
8. U dnolu srca moga / At the bottom of my heart
9. Jena suza sjajna / A shiny tear

Buy album

Music shops Croatia:
Klub&Knjižara Giardini 2, Pula
Croatia Records, Zagreb, Bogovićeva 5
Croatia Records, Rijeka, Užarska 3
Croatia Records, Split, Bulićeva 1
Lyrics
TransAdriaticum
Tamara Obrovac TransAdriatic Quartet
Alessa Records, 2019.
Format: CD, Digital
Tamara Obrovac / voice, composer (HR)
Stefano Battaglia / piano (IT)
Salvatore Maiore / double bass (IT)
Krunoslav Levačić / drums (HR)
All songs written by: Tamara Obrovac except 4. Mongo Santamaria, and lyrics on 2. Vladimir Nazor, 3. Carmela Ronchi  5. Traditional 6. Rosanna Turcinovich
Recorded at Muzička akademija Zagreb / Academy of Music Zagreb
Mixed / mastered: by Bernard Mihalić Studio Podmornica
Produced by: Bernard Mihalić and Tamara Obrovac
Album artwork: Ivan Obrovac / Design: Matija Debeljuh / Photo: Darija Cikač
CD text
Tamara Obrovac, a fine interpreter of song and an equally fine composer, is joined on TransAdriaticum by her new TransAdriatic Quartet. The group interprets Obrovac's original compositions, songs which are rooted in her Istrian homeland – its people, land and legends – and performs with an unmistakeable jazz sensibility.
Obrovac's songs tell many tales; moving from sadness and darkness, through transcendent messages to warmth, love and joy. Obrovac's beautiful and engaging voice combines with an empathic trio of instrumentalists who are in an almost telepathic musical synchronisation. The result is a unique musical vision. The instrumentalists, playing their acoustic instruments in the well-established jazz piano trio formation, blend seamlessly with Obrovac's voice, their performance heightening the songs' emotional impact. TransAdriaticum is a vibrant and rewarding addition to Obrovac's musical world.
Bruce Lindsay
From concert reviews
"Tamara Obrovac - a new and exciting acquaintance ...with her fine trio, she gave us a supplement of something we didn't know we needed."

Trondheim Jazzfest review by Tor Hammerø
From CD reviews
On the new CD, the outstanding Croatian singer Tamara Obrovac remains in her specific sentimental space, of course, at the highest level, with a music codex and messages that shy away from the superficial.
Obrovac sings about night hags, slaves, pain in one's soul and the glint of tears. Touching.
Of course, this venture is only possible with congenial musicians – Tamara's Croatian drummer Krunoslav Levačić and two top-class Italian musicians: Stefano Battaglia on piano and Salvatore Maiore on double bass.
Ernst Weiss, Concerto magazine (AT)
*The CD has been released with the support of the Ministry of Culture of the Republic of Croatia, and BTL fond by ZAPRAF.